Alameda de San Domingos / Alameda de Santo Domingo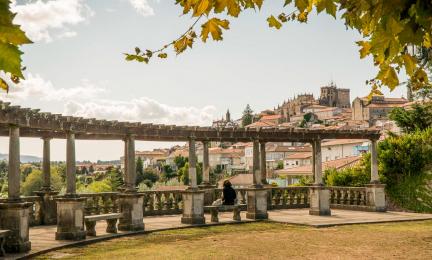 Descripción:
A carón do convento de San Domingos atópase a Alameda. Enclave que nos permite ten unha fermosa panorámica da cidade de Tui co conxunto histórico presidido pola Catedral e do río Miño, coa Comandancia Naval do Miño en primeiro plano.
Al lado del convento de Santo Domingo se encuentra la Alameda. Enclave que nos permite tener una hermosa panorámica de la ciudad de Tui, con el conjunto histórico presidido por la Catedral, y el río Miño, con la Comandancia Naval del Miño en primer plano.
Right beside Saint Dominic's Convent we find the Alameda. This tree-lined spot offers beautiful views of Tui, with the old quarter presided over by the Cathedral, and of the River Miño, with the Navy Headquarters at the forefront.